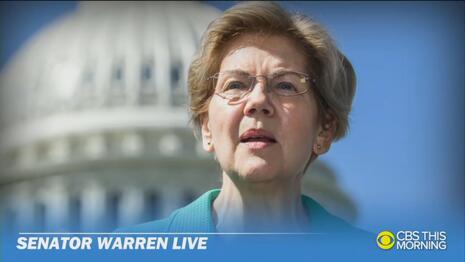 CBS This Morning hosts want Elizabeth Warren to run their show. That was the message from the gushing interview with the far-left Senator on Monday. Now that the Democrats are in charge, deficits don't matter. Setting up the idea that everyone (except mean congressional Republicans) love the massive new spending, co-host Anthony Mason began, "There is bipartisan support out there in the country for a lot of the things in the Democrats' bill. And yet in Washington, there's not." 
He then asked the Democrat to explain why we should all just not care about the massive binge of new spending: 
In other words, let us ask the Democrat why the Democrat-approved spending is such a great idea? Co-host Gayle King's idea of a tough question was to ask Warren about her new book and the pain of not winning the Democratic presidential nomination: 
But CBS has been there for Warren from the beginning. Way back on April 22, 2014, King lobbied: 
In 2020, Warren praised a bizarre CBS segment in which the network pushed socialism via actual pies. 
The Warren propaganda on CBS was sponsored by AllState, Amazon and Ford. Click on the links to let them know what you think. 
A transcript of the questions are below. Click "expand" to read more.  
CBS This Morning
5/3/2021
7:20 a.m. Eastern
GAYLE KING: Ahead, Democratic Senator Elizabeth Warren will talk with us about the next steps in her progressive agenda and why her presidential campaign fell short.
(….)
8:03 a.m. Eastern
ANTHONY MASON: Democratic Senator Elizabeth Warren is fired up about another proposal in president Biden's address to Congress. 
JOE BIDEN: American families plan will provide access to quality affordable childcare. [ Applause ] And guarantee — 
MASON: Affordable childcare is an urgent issue for many working mothers. In 34 states and Washington, D.C., the cost of childcare is more than the cost of in-state college tuition. In her new book Persist, Senator Warren talks about her plans for childcare, student debt, and other issues. She also looks back at the 2020 presidential race and why her campaign fell short. Senator Warren joins us now from Boston. Senator, good morning. Thank you so much for being with us. 
SENATOR ELIZABETH WARREN: Good morning. I'm delighted to be here with you.     
MASON: Let me start with what we were just talking about —  that the President plans to meet with Republicans this week to try to find some common ground on infrastructure. Is there common ground to be found, do you think? 
(….)
MASON: But Senator, Republicans say that the price of this bill is way too high, the difference on the two proposals is miles apart. Can you meet somewhere in the middle there, and if not, are you prepared to go to the budget reconciliation process again? 
(….)
TONY DOKOUPIL: Senator Warren, you're right, there is bipartisan support out there in the country for a lot of the things in the Democrats' bill. And yet in Washington, there's not. And the argument against it, from Washington, is it's going to add too much to the national debt. It's going to somehow bankrupt the next generation. We should run the country like a household. You know this stuff better than most senators. So simple question: Does the deficit really matter these days? 
(….)
KING: In your book, Persist, Senator, you get personal, very candid in ways that we haven't seen before. You even tell the story as cliche as it is, as a young law student, a professor literally chasing you around the desk. You're sitting in the orthodontist's office getting your teeth worked on after somebody said, what are you going to do about her mouth, but you're sitting there, and the guy —  the dentist asked you, as you're reading the law book, "Is your husband a lawyer?" You go, no, "Is your wife an orthodontist?" Which I thought was very funny, by the way. I thought that was very funny. 
(….)
KING: You said in 2020 you —  you had to get —  how did you phrase it, 2020 losing was new for you. And it was very painful, and it hurt, and it stung. So how did you get through that? How did you process that? You tell a great conversation of you and your husband sitting on the couch where he says, "I think you're going to pull this off."  This hurt deeply. How did you get through it? 
(….)
KING: You also — it was a voter, a supporter who really sort of gave you the impetus, it seemed, for you to keep going. You opened the door, you walk out, and there on your sidewalk is what? I love this. Yeah. 
WARREN: So people had taken chalk and started writing on the sidewalk outside our house. And the morning after I dropped out of the race, I opened the door, and there in two-foot-high letters, I am not going to miss this, heavily chalked in is the word "Persist." And it was like a bucket of cold water in the face. And I thought, that's right. I know why I got in the fight, running for president, and you know what? I'm still in that fight. I persist. 
KING: You are still fighting, you are still persisting. The book, for people, you talk about sexism in your own career, in your own life. It's a very interesting read. We thank you, Senator Warren, for your time. Gave people a lot to think about in this book. Persist goes on sale tomorrow wherever you like to buy your books.