The head of U.S. Border Patrol says that agents stopped four sex offenders – including those with convictions of crimes against children – attempting to cross into the U.S. illegally in the space of a single day.
Border Patrol Chief Jason Owens, who took over the position in July, announced that his agents arrested four convicted sex offenders on Wednesday.
Those arrested had charges of "Sexual abuse of a child," "rape by force/fear," "indecency with a child and aggravated sexual assault" and "indecency with a child, exposes."
That comes after Owens announced last week that agents encountered three sex offenders in a single day – along with 10 firearms and two armed subjects.
FLORIDA STING TARGETING CHILD SEX EXPLOITATION FINDS NEARLY 40% OF ARRESTEES IN US ILLEGALLY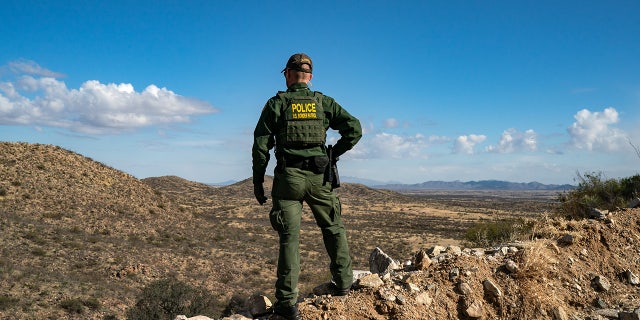 A U.S. Border Patrol agent stands on a cliff looking for migrants that crossed the border wall between the U.S. and Mexico near Sasabe, Arizona, on Jan. 23, 2022. (Salwan Georges/The Washington Post via Getty Images)
It comes a day after Florida officials announced that seven out of 19 arrested in an anti-child trafficking operation in Florida were in the U.S. illegally. Five have no record that shows lawful entry into the U.S. One man was admitted on a B-2 visitors visa that expired in 2021, and another was admitted on a J-1 student visa that also expired in 2021.
On Thursday, Texas Department of Public Safety announced that its troopers had arrested an illegal immigrant from Mexico for the possession or promotion of child pornography.
The arrests are occurring amid an ongoing crisis at the southern border that has seen record numbers since 2021, including nearly 2.4 million encounters in fiscal year 2022. In that year, there were more 12,000 encounters of criminal illegal immigrants by Border Patrol.
MIGRANT NUMBERS CROSSING DARIEN GAP SET NEW RECORD, DESPITE US EFFORTS
Republican critics of the administration have pointed to the record number of getaways, including nearly 600,000 last fiscal year, and raised concerns about the number of criminals who may be seeking to evade Border Patrol and get into the U.S.
The administration has shot back, calling on Congress to pass reforms to fix the "broken" system in which the Department of Homeland Security says it is working. It has called for additional funding for processing.
REJECTION OF BIDEN ASYLUM RULE AFTER COURT CHALLENGE RAISES FEARS OF FRESH BORDER SURGE 
It has also pointed to a drop in overall encounters at the border between May and June after a combined strategy that saw a stiffening of penalties for illegal entry and an asylum ban on those crossing illegally who failed to claim asylum in a prior country through which they traveled.
However, that asylum bar was dealt a blow last week when it was blocked by a federal judge, raising new concerns about a looming increase in numbers.
Adam Shaw is a politics reporter for Fox News Digital, primarily covering immigration and border security.
He can be reached at adam.shaw2@fox.com or on Twitter.