California Gov. Gavin Newsom on Wednesday slammed College Board CEO David Coleman as a "puppet of Ron DeSantis" after the Board revised an AP African American studies course by removing much of the content the Republican governor had criticized. 
In response to a New York Times report on the College Board stripping down its Advancement Placement Curriculum for African American studies, Newsom mocked Coleman's comments to The Times that the Board's decision did not come from the statements of political leaders.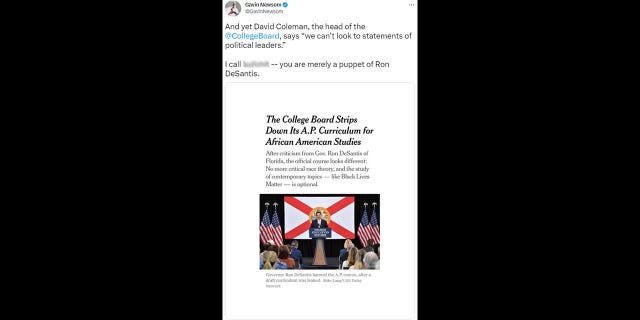 California Gov. Newsom appeared to accused College Board CEO David Coleman of kowtowing to Florida Gov. Ron DeSantis.  (Twitter/@GavinNewsom)
"I call bulls—," Newsom tweeted. "You are merely a puppet of Ron DeSantis." 
Fox News Digital reached out to the offices of DeSantis and Newsom for comment but did not hear back before publication. 
JOY BEHAR CLAIMS DESANTIS IS 'SACRIFICING' EDUCATION OF A 'GENERATION' BY REMOVING WOKE CURRICULUM, DRAG SHOWS
The official curriculum for the course, released Wednesday by the College Board, downplays some components that had drawn criticism from DeSantis and other conservatives.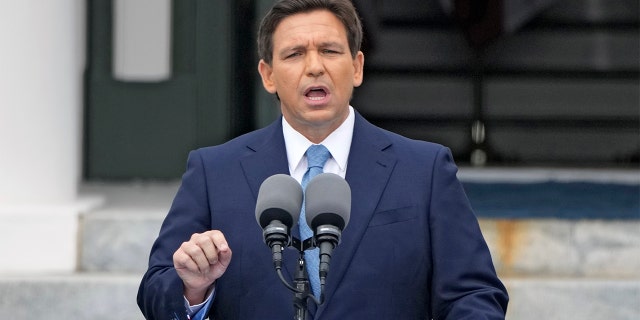 Florida Gov. Ron DeSantis speaks after being sworn in to begin his second term during an inauguration ceremony outside the Old Capitol on Jan. 3, 2023, in Tallahassee, Florida. (AP Photo/Lynne Sladky, File)
The Board, which oversees AP exams, said revisions to the course were substantially complete before DeSantis shared his objections. It called The New York Times report "a gross misrepresentation of the content of the course and the process by which" the AP African American Studies program was developed.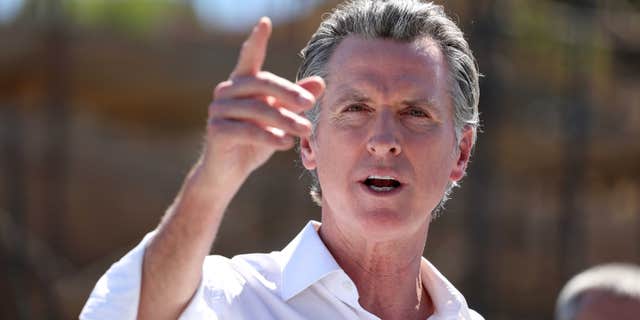 California Gov. Gavin Newsom said Monday the state will end its COVID-19 state of emergency declaration in February 2023.  (Justin Sullivan/Getty Images)
"The fact of the matter is that this landmark course has been shaped over years by the most eminent scholars in the field, not political influence," the organization said in a written statement.
CLICK HERE TO GET THE FOX NEWS APP
The revised curriculum will guide the course's expansion to hundreds of additional high schools in the next academic year. College Board officials said developers consulted with professors from more than 200 colleges, including several historically Black institutions, and took input from teachers piloting the class.
Fox News' Gabriel Hays and The Associated Press contributed to this report. 
Bradford Betz is a Fox News Digital breaking reporter covering crime, political issues, and much more.