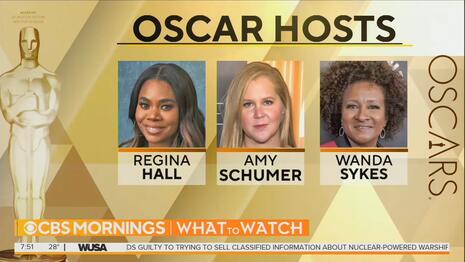 Last year's Academy Awards were the lowest in history. So, rejecting reality, this year's Oscars will be hosted by liberal comedians who hate half the country. But don't worry, CBS on Tuesday ignored that aspect of the terrible ratings and blamed it on changes in "viewing patterns." 
Amy Schumer, Wanda Sykes and Regina Hall will host the Oscars on March 27th. Schumer in 2018 said of Brett Kavanaugh's Supreme Court nomination: "A vote for Kavanaugh is a vote saying women don't matter." The same year, speaking of a female Republican Senator, she mocked her "crackhead-looking mouth" and "tiny racist teeth." 
In 2018, Wanda Sykes unleashed a vulgar rant against Ivanka Trump, calling her a "bitch" and saying "fuck you!" 
And these are the people who are supposed to improve the ratings? But no matter, CBS Mornings co-host Vlad Duthiers raved, "This is cool. These women are incredible. It's going to be great." 
Co-host Tony Dokoupil wouldn't even consider that insulting half the country might make them less likely to watch the Oscars. He spun, "You know, I don't think ratings and Oscars are low because of the hosts. Right? It's because of changing in viewing patterns." But even Dokoupil must know that's nonsense. Almost under his breath, he concluded, "That's what the consultants tell us." 
So, the day after this year's Oscars, when we hear that they were the lowest rated in history, don't be surprised. But don't expect Hollywood to learn a lesson either. 
The lies on CBS were sponsored by Progressive insurance. Click on the link to let them know what you think. 
A transcript is below. 
CBS Mornings
2/15/2022
7:50

VLAD DUTHIERS: It is official. Ready for this? Do you guys know who is hosting this year? I'm going to tell you. The biggest night in Hollywood and the host of the Academy Awards has been revealed. They are Regina Hall, Amy Schumer and Wanda Sykes. This year's show is seen as a make or break by many after the Oscar telecast got record-low ratings. This is cool. These women are incredible. It's going to be great. 

MICHELLE MILLER: Two comediennes and an actor who has comedic —

DUTHIERS: Yeah, they've all appeared in film. They've all appeared on television. It's going to be good. And there's also something really interesting too. The Oscars are allowing users on Twitter to vote for their favorite movie and if that gets enough votes, it will be in the telecast. 

MILLER Oooh. 

TONY DOKOUPIL: You know, I don't think ratings and Oscars are low because of the hosts. Right? It's because of changing in viewing patterns. 

DUTHIERS: Got that right. 

DOKOUPIL: That's what the consultants tell us.