Argentina's libertarian President-elect Javier Milei confirmed on Monday that he would make visits to both Israel and the United States before his inauguration on December 10, trips he described as "spiritual" and intended to meet with rabbis whom he had consulted during the election.
Milei won the presidency in a landslide on Sunday night, defeating the current Minister of Economics Sergio Massa, a socialist. Massa's tenure has been defined by inflation of upwards of 140 percent, skyrocketing poverty and joblessness levels, and the worst economic crisis in the nation's history. Milei, a self-described libertarian, has promised to install the U.S. dollar as an official currency, dramatically cut government spending through the elimination or privatization of agencies, and eliminate the Argentine Central Bank.
On foreign policy, Milei promised to abandon the pro-Iran, pro-China policies of incumbent President Alberto Fernández and the long line of socialist Peronists who preceded him and has repeatedly stated that Argentina's top allies under his administration will be Israel and the United States. Milei reportedly began studying the Torah and considered converting to Judaism from Catholicism in 2021, and has maintained regular studies with multiple rabbis.
COLlive.com also reported:
Last July, he visited the Rebbe's Ohel in Queens, New York. In a TV interview about the visit, Milei explained how the Rebbe's farbrengens on Shabbos were memorized by a team of rabbis (choizrim) who would transcribe it after Shabbos. He said he had the merit of meeting one of them.
He also often uses Jewish iconography and symbolism in his public events.
SUENA EL SHOFAR pic.twitter.com/cggV3tjgbS

— Santiago Oría (@Santiago_Oria) August 8, 2023
Argentina has Latin America's largest Jewish population, estimated at 250,000 people.
Milei's enthusiastic support for Israel – particularly following the unprecedented wave of terror by the genocidal group Hamas in the country on October 7 – marks a dramatic shift for Argentina, which under socialism has built significant ties to the Islamist regime of Iran. The current vice president, former President Cristina Fernández de Kirchner, has faced formal accusations of helping Iran protect its terrorists believed to be responsible for a deadly terrorist attack in Buenos Aires in 1994.
Fernández de Kirchner allegedly agreed to rescind demands to Interpol to help with the arrests of Iranian nationals implicated in the bombing of the Argentine-Israeli Mutual Association (AMIA) that year, the deadliest terrorist attack in the Western Hemisphere before September 11, 2001.
In 2015, a top Argentine prosecutor, Alberto Nisman, prepared a detailed report on the evidence of collusion to protect terrorists between Iran and the Fernández de Kirchner administration. The night before he was to present his evidence before the Argentine Congress, he was found dead of a gunshot wound to the head. The Fernández de Kirchner government ruled the death a "suicide."
Under Alberto Fernández, Argentina was set to join the BRICS economic coalition in January alongside Iran.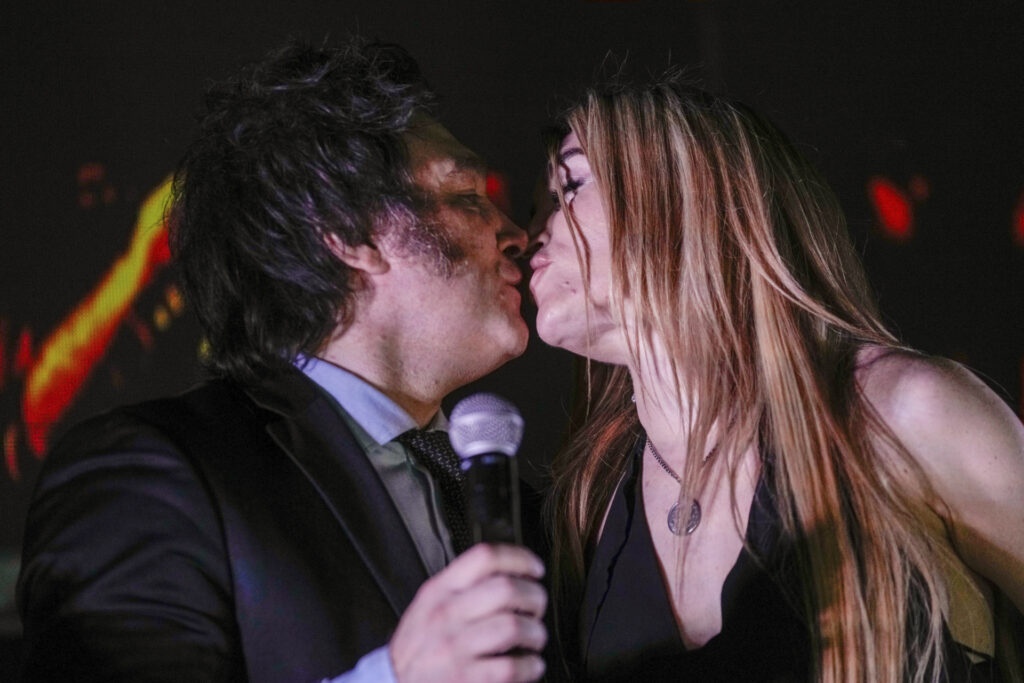 Presidential candidate of the Liberty Advances coalition Javier Milei, right, kisses his girlfriend Fatima Florez outside his campaign headquarters after winning the runoff election in Buenos Aires, Argentina, Sunday, Nov. 19, 2023. (AP Photo/Rodrigo Abd)
Speaking on the program Alguien Tiene que Decirlo ("Somebody Has to Say It") on Argentina's Radio Mitre, Milei confirmed on Monday his plans to travel to America and Israel in the near future.
"My first trip will be to the United States … and then I will be traveling to Israel, so those will be the first trips I will make," he said. "The trip has more of a spiritual connotation than other characteristics."
Milei said he would be meeting friendly rabbis in New York and Miami, Florida, and traveling from there to Israel. He said he had extended an invite to the Israeli ambassador in Buenos Aires to come with him.
The promised trips reflect his campaign promises. In August, Milei told the Argentine newspaper La Nación that his top allies would be America and Israel, "with all that that implies."
"Israel I consider to be such an ally that I have said I will move the embassy from Tel Aviv to Jerusalem," he promised.
In an extended profile with the Spanish newspaper El País, Milei detailed an interest in the study of the Torah that began in 2021. Milei reportedly sought out rabbis to help him study the sacred Jewish text and considered conversion, though he has publicly expressed concerns about keeping the Sabbath while being president. The newspaper noted that one of the Milei campaign's most popular catchphrases, referring to his supporters as the "forces of Heaven," is a paraphrasing of a citation in 3 Maccabees. Milei supporters often post memes online reading "welcome to the forces of Heaven" – accompanied by images from the Japanese amine program Dragonball Z – to anyone posting positive sentiments about Milei.
Miralo a @anellogaby. Bienvenido a las Fuerzas del Cielo https://t.co/zXHHrdDUZ9 pic.twitter.com/zazLoUth5j

— Juan Doe (@jdoedoe101101) August 26, 2023
Milei specifically credited Jewish prayers with giving him strength during an interview with Tucker Carlson in September, in which he said he was grateful that "there are a lot of people praying" for him.
"It brings me a lot of joy that many people go to the Kotel, the Western Wall in Israel, and leave petitions for me," Milei said." I feel good, but I am also convinced in what I am doing. Life without freedom is not worth living."