Two teens who killed a boy during a fight outside LeBron James' I Promise school in Akron, Ohio, ended up being acquitted of involuntary manslaughter and instead were convicted of felony and misdemeanor assault on Monday.
Deshawn and Tyler Stafford were acquitted of manslaughter in the death of 17-year-old Ethan Liming, with Deshawn being convicted of felony aggravated assault as well as a misdemeanor count of assault, and his brother, Tyler, only convicted on a single misdemeanor count of assault.
The manslaughter charges were dropped when a jury could not agree on a verdict, causing Summit County Common Pleas Judge Tammy O'Brien to declare a mistrial.
Deshawn could still face up to two-and-one-half years in prison for the felony charge.
Our condolences goes out to the family who lost a loved one!! My the heavens above watch over you during this tragedy! Pray for our community! ???????? https://t.co/bpq5qsoNfO

— LeBron James (@KingJames) June 3, 2022
The arrests came on the heels of a fight outside the school on June 2, 2022.
The deceased teen, Ethan Liming, and his friends had been driving around shooting a water gun at people, but when they came across the Staffords, a fight ensued. During the fight, Deshawn Stafford punched Liming, causing him to fall to the pavement and hit his head. Liming died from injuries suffered when his head hit the concrete.
The U.S. Marshals Service announced it had arrested Deshawn Stafford Jr., 20, Tyler Stafford, 19, and Donovan Jones, 21, in Akron after homicide warrants were issued for the three. Both Staffords were arrested at a residence in the 500 block of North Howard Street, while Jones was arrested at a home in the 200 block of Crosby Street. The three suspects "are currently being held on charges of murder and felonious assault, with Jones also accused of disrupting public service," according to WKYC-TV.
According to Ethan's father, Bill Liming, his son and three other friends, one white and two black, went to the parking lot near the I Promise School to plan the rest of their evening.
It was there that, according to Liming, his son, and his friends encountered four other individuals — three black males and one black female. The two groups engaged in what Liming described as "horseplay."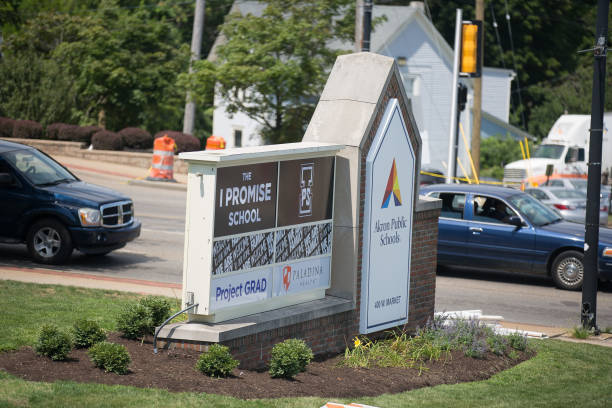 New school signage is seen at the grand opening of the I Promise school on July 30, 2018, in Akron, Ohio. The new school is a partnership between the LeBron James Family Foundation and Akron Public Schools. (Allison Farrand/NBAE via Getty Images)
"Teenagers were being teenagers," Bill told the Akron Beacon Journal. "I don't want to say too much about the investigation. But apparently, some of his friends who were with him were fooling around in the parking lot, and some other people didn't like it."
Liming's body was retrieved from the school property, and it was determined that he died from blunt-force head trauma.
The lawyer for Deshawn Stafford celebrated the ruling that saw his client exonerated from manslaughter and downgraded to an assault charge.
"I hope this verdict allows all the folks who have suffered, all the folks who are hurting … I hope this verdict allows them to get some kind of closure, some kind of peace," attorney Jon Sinn said, according to WJW-TV.
Follow Warner Todd Huston on Facebook at: facebook.com/Warner.Todd.Huston, or Truth Social @WarnerToddHuston