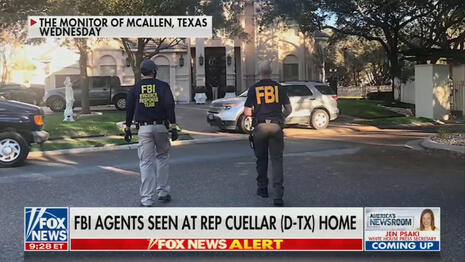 Broadcast networks CBS and NBC are intentionally omitting news of an FBI raid on a Democratic Congressman from their morning and evening newscasts.
Since news first broke on Wednesday of an FBI raid on the home and campaign office of Rep. Henry Cuellar (D-TX), CBS and NBC have had three opportunities each to mention this story in a major broadcast — two evening newscasts a one two-hour morning show apiece. But even as details continue to trickle out about the nature of the FBI's search, neither network has spent a second on the story.
While ABC on Thursday night became the only broadcast network to touch this topic, even they have been incredibly reluctant to mention it. Their total coverage amounts to a single 20-second news brief on the Thursday evening edition of World News Tonight.
Meanwhile, liberal cable networks actually have been talking occasionally about the raid. Even MSNBC's Rachel Maddow, brought it up on the Wednesday edition of her 9pm ET show. Sure, she relegated it to the final portion of her hour-long time slot, and she was a bit cautious in her framing of the situation, but at least she mentioned it. Thus far MSNBC has spent 5 minutes and 11 seconds of airtime on the raid, and CNN has dedicated 6 minutes and 5 seconds. Not much compared to the raid of Roger Stone's house (when CNN had a news crew on site before officers even entered the house), but again, it's something.
Here's a brief summary of the Cuellar raid courtesy of MSNBC's Pete Williams, accompanied by a very disappointed Chuck Todd:
Rather than discussing the Cuellar story, both CBS and NBC on Thursday evening ran full-length segments about the New York Attorney General's investigation into the Trump Organization. They also reported on the latest developments surrounding the Congressional January 6 investigatory committee.  
If a state investigation into a former President is news, how come an FBI raid of a prominent sitting Congressman isn't? Clearly it's got something to do with the capital D next to Cuellar's name.