Democrat Senator Kirsten Gillibrand was caught walking maskless through a restaurant in New York.
This is despite New York's mask mandate for restaurants.
The video was released by the restaurant, Innovo Kitchen.
NEW: More hypocrisy. New York Sen. Kirsten Gillibrand thinks she's too good for New York's mask mandate and gets called out by the restaurant! Video and more here: pic.twitter.com/OFmUMRDP2E

— Henry Rodgers (@henryrodgersdc) January 15, 2022
TRENDING: MUST-SEE VIDEO: J6er Micajah Jackson CONFRONTS AZ Man Luke Robinson on Video Who Was in US Capitol WITH A GUN and Was LATER REMOVED from FBI Most Wanted List
The restaurant blasted her in an Instagram post saying this was "the problem with NY politics in a nut shell."
They said Gillibrand walked right past a giant sign that read "masks required to enter."
She walked right past the manager before she could have even been asked to put on a mask.
They pointed out Gillibrand must think she is "above the rules."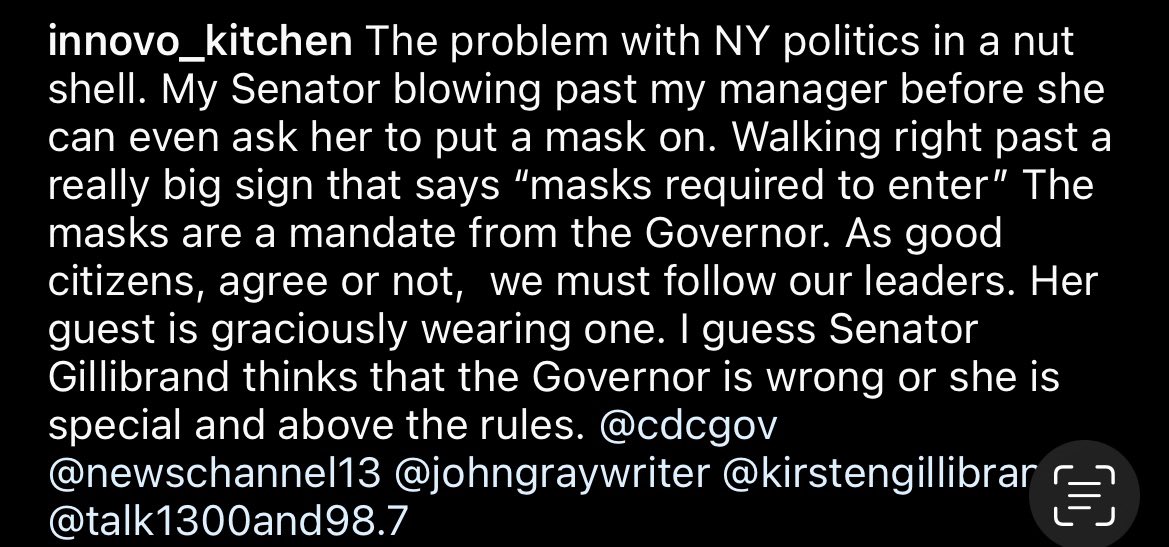 Democrats have been caught on multiple occasions breaking the rules they themselves support for the American people.
Pelosi was caught getting her hair done at a San Francisco salon despite local ordinances keeping salons closed back in 2020.
Pelosi Confirms She Got Hair Done Indoors at San Francisco Salon, Says She Didn't Think She Did Anything Wrong
California Governor Gavin Newsom broke his own lockdown rules to attend a birthday party for one of his political advisors:
California Governor Gavin Newsom Breaks His Own Authoritarian Covid Lockdown Order, Attends Birthday Party For Political Advisor
Despite smearing Florida Governor Ron DeSantis' response to the COVID pandemic, Dem Rep. Alexandria Ocasio-Cortez traveled to Miami for vacation.
AOC Exposed Again at Drag Queen Event with No Mask In Miami – While Her Home State New York Crumbles Under COVID Tyranny and Socialist Policies
Rules are for the little people?