President Joe Biden and first lady Jill Biden released a statement after Hunter Biden's plea deal Tuesday that suggested their son is a victim who is rebuilding his life.
"The President and First Lady love their son and support him as he continues to rebuild his life," they said through White House spokesman Ian Sams.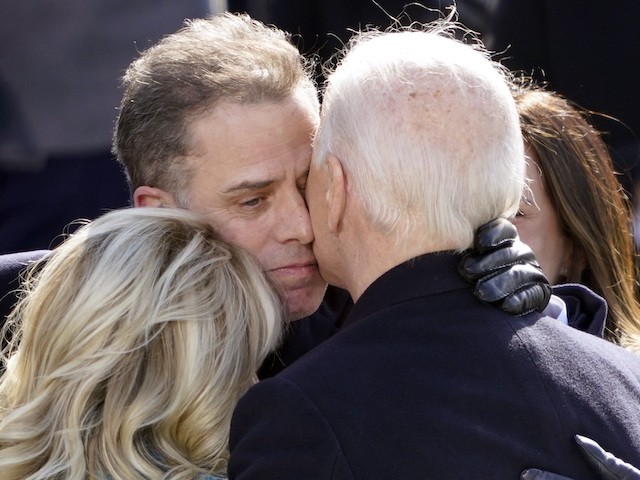 President Joe Biden hugs first lady Jill Biden, his son Hunter Biden and daughter Ashley Biden after being sworn-in during the 59th Presidential Inauguration at the U.S. Capitol in Washington, January 20, 2021. (AP Photo/Carolyn Kaster)
"We will have no further comment," the statement concluded.
Jill and Joe Biden's statement echoes the narrative of the establishment media, which crafted the president's son to be simply an adrift person who is recovering from hard drug use.
But Hunter Biden's history suggests otherwise. Hunter Biden is a practicing lawyer and holds a Yale law degree. After graduating, he worked at the United States Department of Commerce, focusing on ecommerce policy for President Bill Clinton's administration.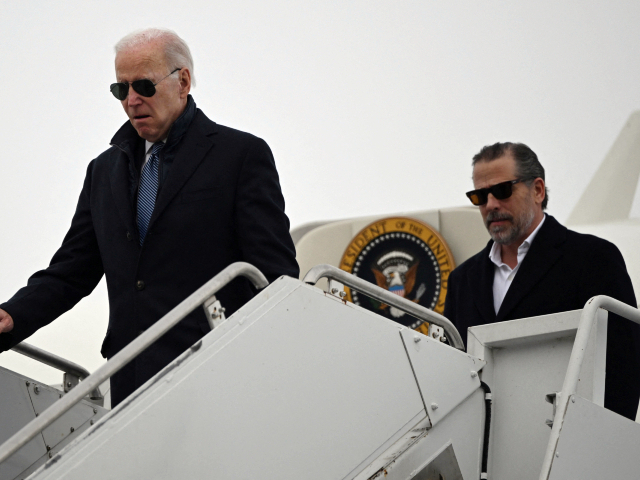 President Joe Biden, with son Hunter Biden, arrive at Hancock Field Air National Guard Base in Syracuse, New York, on February 4, 2023. (ANDREW CABALLERO-REYNOLDS/AFP via Getty Images)
He then became a lobbyist before being appointed to the board of directors of Amtrak by President George Bush in 2006.
While his father was vice president during the Obama administration, he ran a massive web of shell companies to support his international business deals in over ten countries.
Hunter Biden has allegedly done business with the Chinese Communist Party, corrupt entities in Ukraine and Russia, and across South America and Africa, by leveraging his family's connections at the highest levels of government.
Hunter Biden also launched a successful art career, raking in hundreds of thousands for paintings sold to anonymous buyers.
RELATED VIDEO — Grassley: Foreign National in Alleged Biden Bribery Scheme Has "Insurance Policy" Recordings of Joe and Hunter:
C-SPAN
Follow Wendell Husebø on Twitter @WendellHusebø. He is the author of Politics of Slave Morality.