Leftists are calling for platforms to ban Joe Rogan and Jordan Peterson to prevent the spread of "misinformation."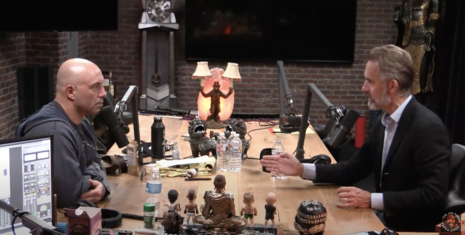 Jordan Peterson is known for his challenges to liberal philosophy. YouTuber Ethan Klein said he regretted hosting Peterson on his show because he was "alt-right" and spread COVID "misinformation."
"Years ago I interviewed Jordan Peterson before I was very familiar with his politics – he was an interesting guest who I enjoyed sitting with," Klein tweeted. "But, especially now, I can see he's a dangerous gateway to alt-right, transphobia, and covid misinfo. I removed both interviews today."
Famous podcaster Joe Rogan is also in the left's crosshairs after he challenged the narrative on COVID-19. Rogan has hosted COVID skeptics on his show and has opposed government mandates with regards to the virus.
In an open letter, 270 doctors asked Spotify to remove Rogan's podcast to stop so-called "misinformation" about COVID.
"With an estimated 11 million listeners per episode, JRE, which is hosted exclusively on Spotify, is the world's largest podcast and has tremendous influence," the letter read.  "Spotify has a responsibility to mitigate the spread of misinformation on its platform, though the company presently has no misinformation policy."
Infectious disease epidemiologist Jessica Malaty Rivera contributed to the letter and said on CNN that the music streaming platform should put "warning signs" and "banners" on the podcast and tell users that the show's "information is actually incorrect."
"When I saw they were falling victim to this, I spoke to some colleagues and we said something has to be done at this point," she said.
Conservatives are under attack. Contact your local representative and demand that Big Tech be held to account to mirror the First Amendment while providing transparency, clarity on "hate speech" and equal footing for conservatives. If you have been censored, contact us using CensorTrack's contact form, and help us hold Big Tech accountable.