While the media and the government try to inundate America with fear of the not-so-dangerous Omicron variant of coronavirus, at least two major sports figures are not buying into the Left's fear-mongering.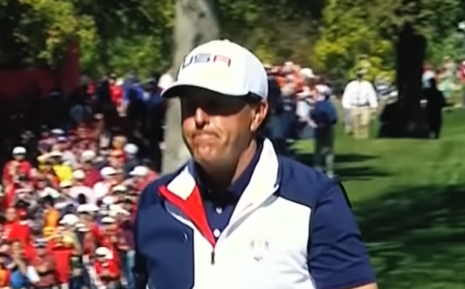 Pro golfer Phil Mickelson, one of the few remaining class acts in professional sports, posted a Tweet that both asked for more information about the virus in a respectful way, but also masterfully highlighted the irrationality of the fear surrounding the Omicron variant:
Serious question since I'm not a dr. If omicron is contagious but not deadly(25,000 cases in Africa with no deaths) why try and control it? Why not let it go and let people get it and develop immunity? Especially for those who won't get vaccinated? Pls no hate, I'm just curious.

— Phil Mickelson (@PhilMickelson) December 23, 2021
Mickelson naturally received a lot of flack for having a level of common sense, but he's onto something. If this is a disease that has symptoms comparable to the common cold and has a far lower death rate than the first edition of COVID-19, why is there so much panic surrounding it?
Mickelson is right in saying that if the disease is so low risk, we should just trust that our bodies will adapt to the sickness and protect us naturally. But since there is no money for or control in this approach, he will likely be dismissed as irrational.
Interestingly, Los Angeles Lakers forward LeBron James has a similar viewpoint on just how serious all these viruses are and posted a meme highlighting the similarities between COVID, the common cold, and the flu:
Several conservative media personalities were ecstatic after James made his post:
It happened. Lebron and I finally agreed on something. pic.twitter.com/t0pb9sM29F

— Dave Portnoy (@stoolpresidente) December 24, 2021
LeBron off the top rope on coronabros! Did we just become best friends?! pic.twitter.com/Em0eunmOvQ

— Clay Travis (@ClayTravis) December 24, 2021
To be clear, by no means is James in touch with reality with most of his political or cultural takes (influencing millions in the process) and often acts like a jerk when he chooses to voice them. But just this once his thoughts were trending in the right direction.
Yes, people have died from COVID, which is a sad and unfortunate reality of the past two years. But the reality is that a majority of people are not seriously affected by COVID in the long run and the symptoms are mild in most cases. Shutting down our businesses, sports leagues, and our entire country – all while living in fear – will accomplish no good.
Mickelson and Lebron get it. The question is, when will the rest of us?