The Cook Political Report changed their ratings on 9 different Governor's races.
8 of the races shifted in favor of the GOP while only one shifted in favor of the Democrats.
The states that shifted towards the GOP were Michigan, Nevada, Maine, New Mexico, Oregon, Iowa, and South Carolina.
The only one that changed in favor of the Democrats was in New York.
TRENDING: Liberal Media Pushes Bonkers Conspiracy Theory About Florida Governor Ron DeSantis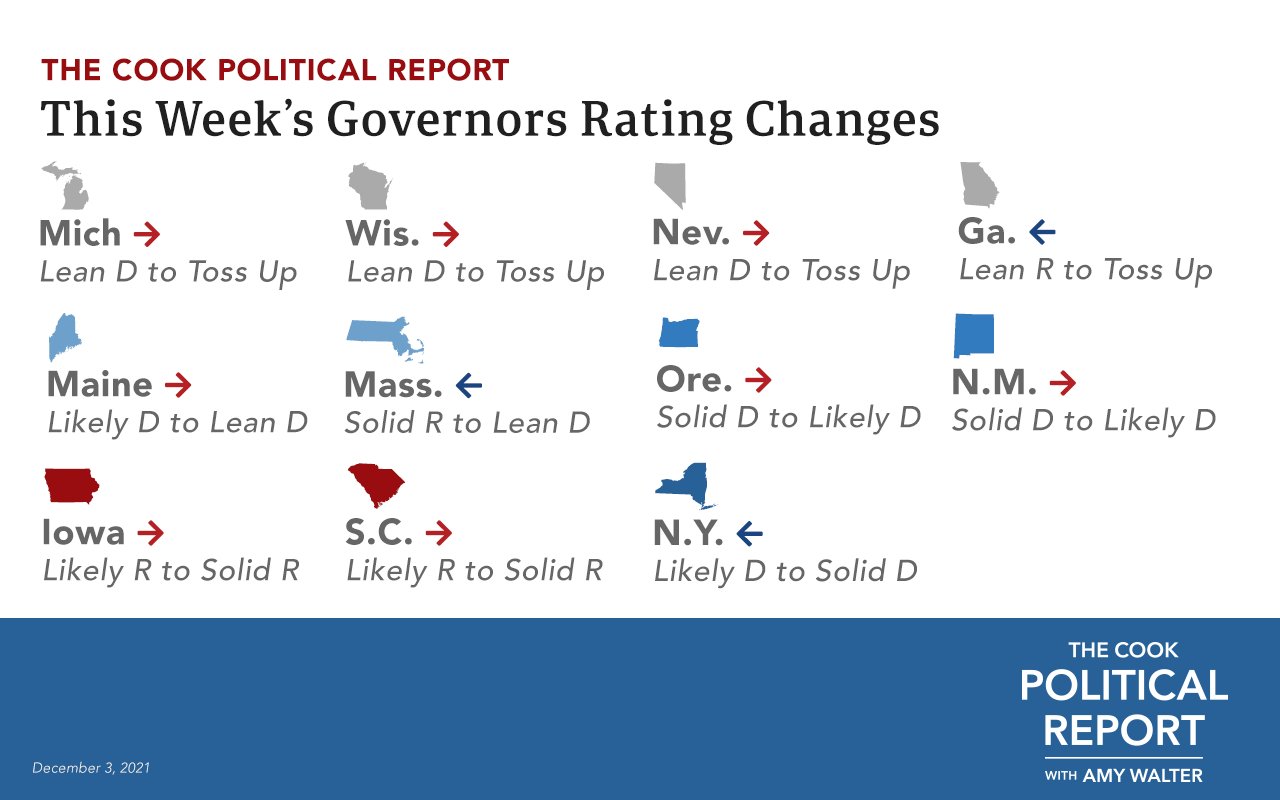 Republicans are seeing improved prospects in eight states' gubernatorial contests next year, according to the Cook Political Report.

The nonpartisan outlet, which analyzes elections and is often used as a resource among campaigns, updated its ratings for 11 gubernatorial races this week and moved eight in a favorable direction for Republicans, while shifting three toward Democrats.
This change comes as the Republicans have once again expanded their target list for 2022.
The National Republican Campaign Committee (NRCC) has expanded its list 3 times a sign that more and more Democrats are being vulnerable.
The National Republican Campaign Committee (NRCC), the campaign arm for House Republicans, expanded its list of targeted Democrats the committee hopes to flip in the upcoming midterm elections and released new campaign ads to emphasize the rising prices Americans face during Thanksgiving due to the Democrats' reckless spending.

The NRCC's expansion comes the day after the 17th Democrat — a close confidant to House Speaker Nancy Pelosi (D-CA), longtime Rep. Peter Welch (D-VT) — announced he would be abandoning the House of Representatives to bid for the U.S. Senate in order to replace retiring Sen. Patrick Leahy (D-VT).

The list of 13 newly announced vulnerable Democrat representatives includes Reps. Sean Patrick Maloney (NY), Ed Perlmutter (CO), Sanford Bishop (GA), Richard Neal (MA), Dan Kildee (MI), Dina Titus (NV), Annie Kuster (NH), Tom Suozzi (NY), Jerry Nadler (NY), Marcy Kaptur (OH), Jim Clyburn (SC), Jim Cooper (TN), and Steven Cohen (TN).

This is the third time the NRCC has expanded its original list, which it announced on March 25. The campaign arm has kept growing its list as many Democrats have already announced — and more are rumored to announce — their retirement or candidacy for another position, whether it be the Senate or even a local or state position.