With Joe Biden's popularity cratering, the White House finally announced on Tuesday that the President will submit to a pre-Super Bowl interview, talking to Nightly News anchor Lester Holt. (Previews of the interview will air on Thursday night.)The confirmation came late, just five days before the world-wide event. 
History has shown that Democrats like Barack Obama and Joe Biden enjoy super softballs before the big game. Perhaps this Super Bowl interview will be different. Maybe Holt will ask Biden about falling into the 30s in the Real Clear Politics average of polls, the crisis at the border, Hunter Biden or the ongoing disaster in Afghanistan. 
Just last year, CBS aired the Super Bowl and failed to challenge the new President. Instead, CBS Evening News anchor Norah O'Donnell flattered the now-79-year-old, comparing Biden to a NFL athlete. O'Donnell gushed, "So many people might not know that you were once a pretty good receiver yourself back in the day." 
She ridiculously wondered, "But as a former receiver, which quarterback would you rather have throw to you? Tom Brady or [Patrick] Mahomes?" O'Donnell asked for a prediction: "You thinking the Kansas City Chiefs may win?" 
Although George W. Bush did pre-game chat in 2004, the presidential Super Bowl interview didn't become a tradition until Obama. Being Democrats, Obama and Biden enjoyed mostly fawning, easy interviews.
Here's a montage: 
In 2016, CBS News assigned This Morning co-host Gayle King, a donor, supporter, and vacation pal of the Obama family, to interview the President and his wife before the Super Bowl. In doing this, the network guaranteed one of the softest interviews in the history of the Democratic administration. Asking not one serious question, the journalist instead highlighted her favorite photo of the President and his wife. King also brought up dance moves, relationship issues and Super Bowl predictions. 
Like something out of Access Hollywood, the host gave the Obamas a photograph: "I just happen to have this picture here….What were you two thinking? One word? It's one of my favorite pictures of the Obama administration."
Before the 2009 game, then-Today host Matt Lauer enthused to Obama: "Has there been any surprise in terms about life in the White House? Is there something at the White House that you didn't think they had or doesn't have that you thought they did have?" 
Here's a montage of Lauer's 2009 Super Bowl softballs: 
Lauer, who hadn't yet been accused of sexual harassment and abuse, enthused, "…Not only did you just become president, obviously that carries a certain amount of fame with it. But…you have achieved a…certain rock-star status outside of that."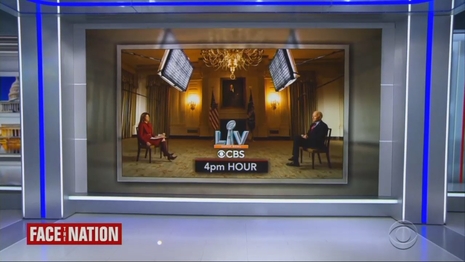 Over four years as president, Donald Trump did two interviews with Fox when they had the Super Bowl (2017 and 2020). He skipped the interview in 2018 and talked to Margaret Brennan in 2019 when CBS had the Super Bowl. But despite what liberals might think, then-Fox anchor Bill O'Reilly in 2017 asked Trump some tougher questions: 
Is there any validity to the criticism of you that you say things you can't back up factually, and as the president, if you say, for example, that there are three million illegal aliens who voted and then you don't have the data to back it up, some people are going say that it's irresponsible for a president to say that. 
That's a little tougher than NBC's Savannah Guthrie in 2015 appearing with Obama before the big game to laud: "We are in the White House kitchen where, among other things, you brew beer!"
Holt, the 2022 Super Bowl interviewer, has embarrassed himself in regular political interviews. In 2016, he admitted to "wincing" when someone questioned Hillary Clinton's honesty. Talking to the Democrat, he tossed this softball: "You've obviously been in tough battles, political battles, but do you get your feelings hurt sometimes?"
Let's hope that Holt does slightly better on Super Sunday.