The last thing any crook wants to see is a 7'1 350-lb Shaquille O'Neal coming to arrest him. Thankfully for the "crook," it only happened as part of an act in a police recruitment video.
Officers surrounded the suspect in the humorous police ad but the sight of a bunch of professional law enforcement officers was not enough to deter this particular outlaw. Despite having no escape, the crook taunted the cops, saying, That's all you got?"
Seeing the need for reinforcements, the cops called the only reinforcement anyone could ever need: Shaq (and all of his many nicknames).
Big thanks to @SHAQ for his continued support for law enforcement and spending time with his old police department. It was great to see him back in our uniform!

More clips to come… pic.twitter.com/fHpAmavKki

— LA Port Police (@LAPortPolice) September 14, 2023
"Team is more important than any one of us. If you have what it takes to join the Los Angeles Port Police, come on down. It's time to dive in," Shaq says in closing.
O'Neal, a friend of law enforcement, became a Los Angeles Port Police reserve officer in 2002. In addition, Shaq considered a run for Sheriff's Office several years ago. Here's what he said at the time about how he views the police and how he would like others to view the police.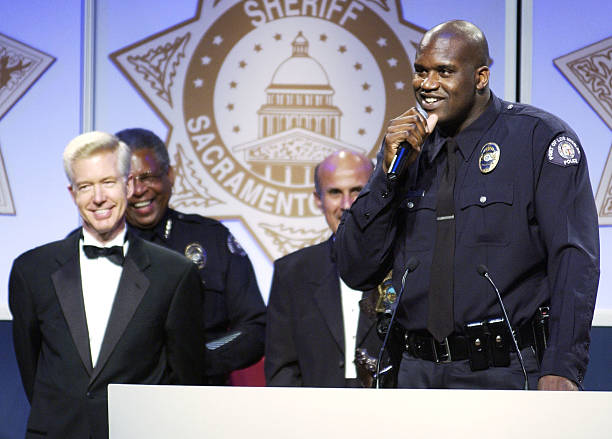 Los Angeles Lakers center Shaquille O'Neal (R) speaks to guests at the 2nd Annual "California Gold Star Awards" dinner gala and auction at the Disneyland Hotel on April 5, 2003 in Anaheim, California. (Robert Mora/Getty Images)
"This is not about politics for me. It's something that I always wanted to do. It's just about bringing people closer together. When I was coming up, people loved and respected the police, the deputies, and I want to be the one to bring that back, especially in the community that I serve."
It would be nice if that could come back.