Rep. Kevin McCarthy / YouTube
House Speaker Kevin McCarthy (R-CA) hosted several female athletes who had been forced to compete against men in school sports during a discussion Wednesday at the U.S. Capitol in honor of "National Girls and Women in Sports Day."
One of the athletes, Riley Gaines, recalled her now infamous experience racing in last year's National Collegiate Athletic Association (NCAA) swimming championship against Lia Thomas, a man living as a transgender woman. She also condemned the NCAA's approach to the "locker room scene."
"Not only were we being forced to compete against biological men, change in a locker room with biological men who, keep in mind, were fully intact with male genitalia, it was at this point I realized we as female athletes were being sidelined to men and reduced to a photo op, which of course makes a mockery of everything I've dedicated my life to," Gaines said.
Gaines, a decorated student athlete, tied Thomas in the 200 freestyle down to a hundredth of a second in March 2022, pitting both swimmers in fifth place with only one fifth-place trophy available.
"Lia has to have the trophy for photo purposes," Gaines said an official told her at the time. The official, she said, added that the NCAA would mail Gaines her trophy later.
Looking back, Gaines said, it was "totally a God thing."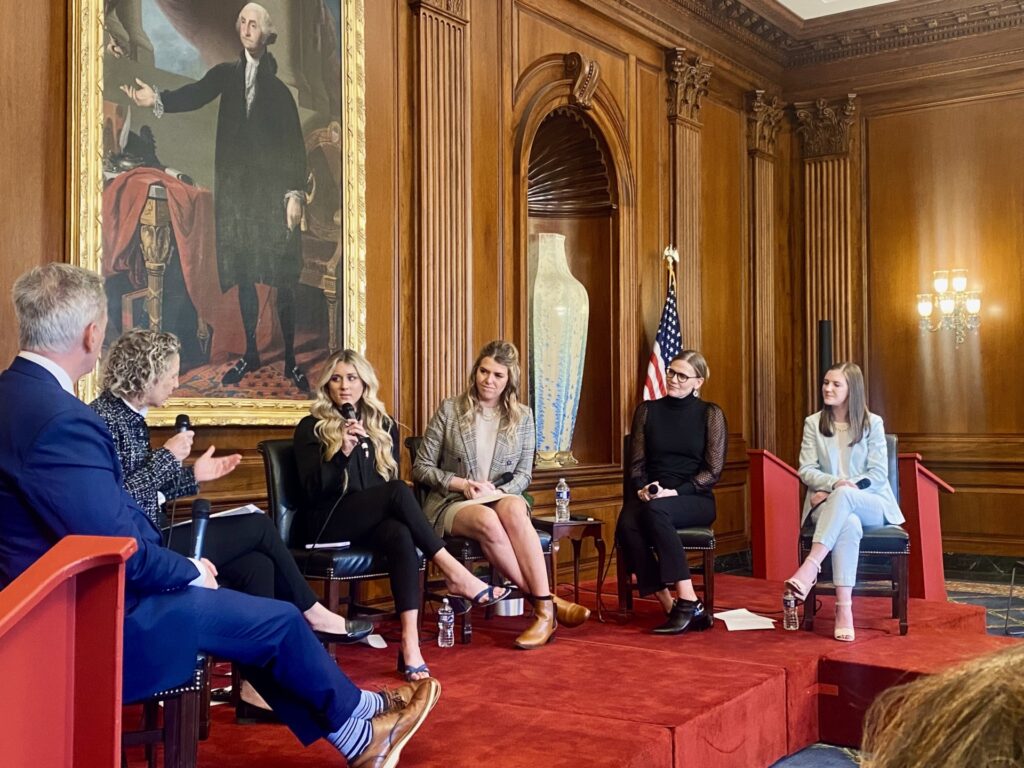 Riley Gaines and Rep. Jen Kiggans speak at an event while Speaker Kevin McCarthy looks on in the Rayburn Room of the U.S. Capitol, February 1, 2023. (Breitbart News)
Gaines went on to become a vocal advocate of limiting women's sports to women only. On Wednesday, the student athlete also delved into the more intimate topic of locker rooms, welling up with tears as she pointed to a lack of support for women who are forced into sharing locker rooms with men.
"No one within the NCAA is willing to acknowledge us, our feelings, our safety, our privacy," Gaines said.
She continued:
I feel like it's really only happened in the past couple weeks where I'm— get emotional talking about the locker room scene because it is just so wild that you can turn around and see a 6'4 biological man pull his pants down watching you undress, and no one is willing to stick up for you? I've done a good job of not getting emotional, but I see what all is on the line. … I am fortunate, or hopeful, one day that I'll be able to have little daughters, and I do not ever want to have to imagine them in a situation where they're faced with that.
Education Committee chairwoman Rep. Virginia Foxx (R-NC) and Reps. Jen Kiggans (R-VA), Marjorie Taylor Greene (R-GA), and Lisa McClain (R-MI) also spoke during the event.
Rep. Greg Steube (R-FL), who has been at the forefront of the women's sports effort, was not present because of an injury, but he announced Wednesday the reintroduction of The Protection of Women and Girls in Sports Act in conjunction with McCarthy's event.
The bill would recognize "sex" in Title IX, the law intended to prevent sex-based discrimination in schools, as being "based solely on a person's reproductive biology and genetics at birth" and not on gender identity.
Foxx, an original cosponsor of the legislation, said of the bill, "I refuse to sacrifice the safety of girls and women on the field and in the locker room to the woke Left. … Moving backward is not an option. We must honor the original intent of Title IX."
Write to Ashley Oliver at aoliver@breitbart.com. Follow her on Twitter at @asholiver.