Social media influencer Andrew Tate, who has garnered millions of followers online promoting a luxurious, "alpha-male" lifestyle, was indicted in the southeastern European nation of Romania Tuesday on rape and sex trafficking charges. 
Romania's largest anti-organized crime agency, the Directorate for Investigating Organized Crime and Terrorism (DIICOT) said in a statement that prosecutors filed charges against Andrew Tate, his brother Tristan and two Romanian women in a court in Bucharest, Romania's capital. The four defendants are accused of forming a criminal group in 2021 "in order to commit the crime of human trafficking" in Romania as well as other counties, such as the United States and Great Britain. 
Prosecutors say the Tate brothers, who are dual British-U.S. citizens, allegedly recruited seven female victims "by misleading them about the intention to establish a marriage/cohabitation relationship and the existence of real feelings of love (the loverboy method)."  
The victims were later transported and housed in buildings in the Ilfov county of Romania, where they were subjected to acts of physical violence and mental coercion "through intimidation, constant surveillance, control and invoking alleged debts," prosecutors say. Members of the group allegedly sexually exploited the victims, who were forced to perform pornographic acts on camera for dissemination on social media platforms, the statement said.
ANDREW TATE RELEASED FROM ROMANIAN JAIL, PLACED UNDER HOUSE ARREST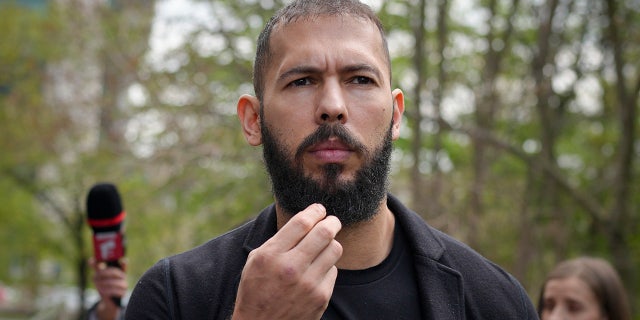 Andrew Tate touches his beard after leaving the Bucharest Tribunal, in Bucharest, Romania, Friday, April 21, 2023. Romanian prosecutors charged on Tuesday, June 20, 2023, the Tate brothers and two other suspects with human trafficking. (AP Photo/Vadim Ghirda, File)
Prosecutors ordered the confiscation of the Tate brothers' assets, including 15 luxury cars, luxury watches and about $3 million in cryptocurrency, DIICOT's statement said.
Prosecutors say victims who refused to continue making pornographic material and asked to leave the property were punished through hitting or other physical violence. In March 2022, one of the defendants is alleged to have raped one of the victims twice "through the exercise of physical violence and mental pressure to repeatedly have sexual relations."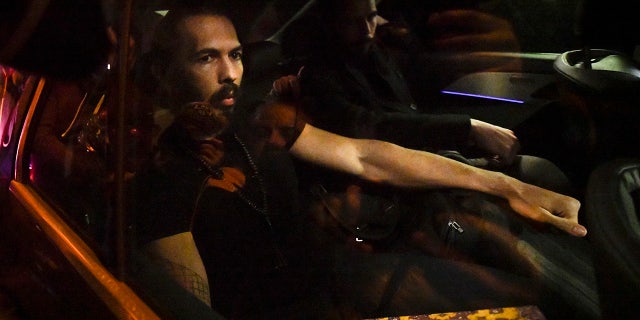 Andrew Tate sits in a car holding the Quran after leaving a police detention facility in Bucharest, Romania, after his release from prison on Friday, March 31, 2023. He is facing allegations of human trafficking and rape. (AP Photo/Alexandru Dobre, File)
Tate, 36, has resided in Romania since 2017. The former professional kickboxer has repeatedly claimed Romanian prosecutors have no evidence and alleged the case is a political conspiracy designed to silence him. Tate's spokesperson, Mateea Petrescu, said Tuesday that the brothers were prepared to "demonstrate their innocence and vindicate their reputation." 
The two men are expected to attend a hearing in Bucharest on Wednesday morning, she added.
ROMANIAN COURT EXTENDS ANDREW TATE'S DETENTION FOR THIRD TIME OVER ALLEGATIONS: REPORTS
"Tate's legal team are prepared to cooperate fully with the appropriate authorities, presenting all necessary evidence to exonerate the brothers and expose any misinterpretations or false accusations," Petrescu said.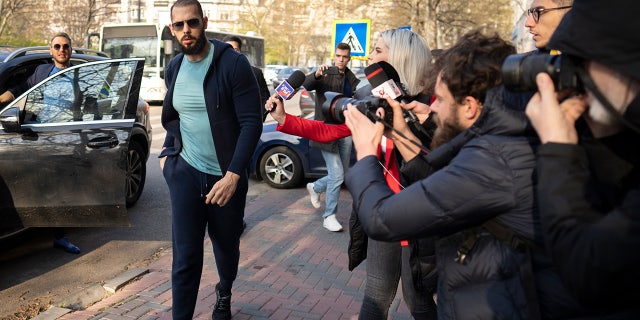 Andrew Tate and his brother Tristan arrive outside DIICOT, where prosecutors examine electronic equipment confiscated during the investigation in their case, in Bucharest, Romania, Monday, April 10, 2023. (AP Photo/Vadim Ghirda, File)
Under Romanian law, a judge has up to 60 days to assess the files in the case before defendants are sent to trial.
The Tate brothers and the two Romanian suspects were detained in late December in Bucharest. The brothers won an appeal on March 31 to be moved from police custody to house arrest.
At the time, Tate was a hugely successful social media figure with more than 6 million Twitter followers, many of them young men and schoolchildren. He previously was banned from TikTok, YouTube, and Facebook for hate speech and his misogynistic comments, including saying that women should bear responsibility for getting sexually assaulted. 
He returned to Twitter last year after the platform's new CEO, Elon Musk, reinstated Tate's account.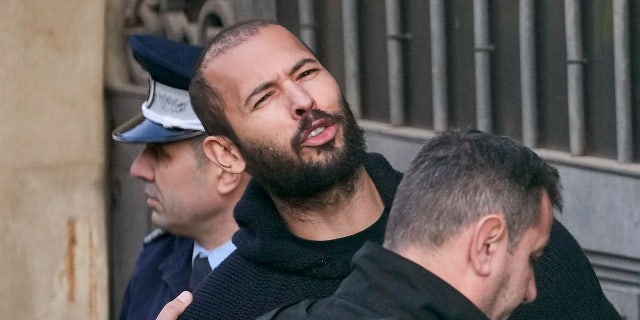 Police officers escort Andrew Tate, center, to the Court of Appeal in Bucharest, Romania, Wednesday, Feb. 1, 2023. Romanian prosecutors charged on Tuesday, June 20, 2023, the Tate brothers and two other suspects with human trafficking. (AP Photo/Andreea Alexandru, File)
CLICK HERE TO DOWNLOAD THE FOX NEWS APP
Hope Not Hate, a group campaigning against far-right extremism in the U.K., has warned that Tate continues to attract a huge following among young men and teenage boys who are drawn to his "misogynist, homophobic and racist content" by the luxurious lifestyle the influencer projects online.
Several women in Britain also are pursuing civil claims to obtain damages from Tate, alleging they were victims of sexual violence. In a recent interview with the BBC, Tate denied spreading a culture of misogyny and accusations that he manipulated women for financial gain.
The Associated Press contributed to this report. 
Danielle Wallace is a reporter for Fox News Digital covering politics, crime, police and more. Story tips can be sent to danielle.wallace@fox.com and on Twitter: @danimwallace.