Rwandan genocide suspect, Fulgence Kayishema, who was recently apprehended in South Africa after years on the run, is now seeking political asylum in the country, according to his lawyer.
Kayishema, a former police officer in Rwanda, is accused of being involved in mass killings during the 1994 genocide, particularly in an attack on a church where over 2,000 people seeking refuge were murdered.
He has been wanted by the United Nations' International Residual Mechanism for Criminal Tribunals for genocide and crimes against humanity.
One of the last remaining suspects accused of orchestrating the brutal killings of some of the hundreds of thousands of people massacred in the Rwandan genocide nearly 30 years ago will apply for political asylum in South Africa after he was finally tracked down and arrested, his lawyer said Tuesday,
The move will potentially further delay Fulgence Kayishema's extradition to his home country to face long-awaited justice at a genocide trial.
Kayishema, a former police officer in Rwanda, is one of the last four fugitives being sought by the United Nations' International Residual Mechanism for Criminal Tribunals for genocide and crimes against humanity related to the 100 days of horror that unfolded in the East African nation in 1994.
Kayishema was charged by the tribunal in 2001 with being a central figure in the slaughter of more than 2,000 people seeking refuge at a church in the early days of the genocide.
Now 62 years old, he was arrested last month in the small town of Paarl near Cape Town, South Africa, having been on the run for half his life.
NIGERIAN PRESIDENT REPLACES ALL SECURITY CHIEFS IN MAJOR SHAKEUP
More than 800,000 people were slaughtered in Rwanda's genocide when militias made up mainly of members of the Hutu ethnic group turned on their Tutsi neighbors. The killings, an attempt to wipe out the minority Tutsis, were triggered on April 6, 1994, when a plane carrying Rwanda President Juvénal Habyarimana, a Hutu, was shot down, killing the leader.
Kayishema is accused of being one of the leaders of a Hutu mob that killed Tutsi men, women and children who were hiding in the Catholic church to escape the sudden eruption of violence. Kayishema and others tried to burn down the church, and when that failed, they used a bulldozer to smash it down, crushing to death the Tutsis inside, according to the charges against him.
Ultimately, more than 2,000 people were killed in and around the church, the genocide indictment against Kayishema says.
The U.N. tribunal wants Kayishema to be sent to one of the seats of the tribunal in Arusha, Tanzania, and then to Rwanda for trial, but it's unclear how long it will take for South Africa to extradite him.
Following his arrest on May 24, Kayishema was charged at a previous court appearance in Cape Town with 54 counts of immigration offenses and fraud for faking documents to enter and live in South Africa. Parts of that case must first unfold. The extradition process was further clouded Tuesday when his lawyer announced that Kayishema will now claim political asylum.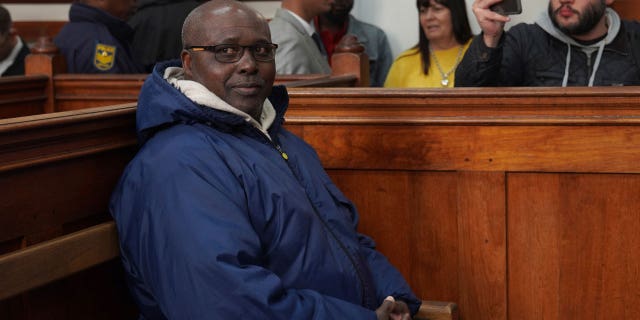 Fulgence Kayishema sits in the Magistrate's Court in Cape Town, South Africa, on May 26, 2023. (AP Photo/Nardus Engelbrecht, File)
Kayishema left Rwanda in 1994 "out of fear for his life," lawyer Juan Smuts told reporters after the hearing.
He hid in at least three other African countries before arriving in South Africa sometime between 2000 and 2002, Smuts said. Smuts said Kayishema was 62 years old and not 61, as previously announced by South African police.
Smuts said the immigration and fraud charges against Kayishema would have to be put on hold while his application for asylum was considered by authorities. South African prosecuting authority spokesman Eric Ntabazalila disputed that and said the asylum claim had no bearing on the criminal case against Kayishema. Prosecutors would also soon launch a case to extradite him for his genocide trial, Ntabazalila said.
Any extradition will likely be delayed for at least two months, though, after the judge postponed Kayishema's South African court case until Aug. 18. He has not entered any plea on any of the charges and has not applied for bail. He is being held in jail.
The killings at the Nyange church in western Rwanda are one of many horrific episodes in the genocide and Rwandans had welcomed Kayishema's arrest last month. The tribunal said he was one of the world's most wanted genocide fugitives.
CLICK HERE TO GET THE FOX NEWS APP
"My wish is that he is brought back to Rwanda (to) face justice in the presence of survivors whom he committed crimes against," said Aloys Rwamasirabo, who survived the Nyange church massacre but saw nine of his children die. "Many innocent people perished at the hands of their leaders, including Kayishema."
Kayishema didn't speak during his latest court hearing but smiled, waved and gave a thumbs-up to some of his family members sitting in the courtroom at the end of the hearing. Smuts said Kayishema's wife, children and other family members all now live in South Africa. Kayishema was guarded by seven armed policeman who watched him as he stood facing the judge.
Kayishema's case has previously frustrated prosecutors at the U.N. tribunal.
They located him in the Cape Town area as far back as 2018, only for South African authorities to fail to act on the arrest warrant. Kayishema slipped away because of that failure by South Africa to act, the tribunal said in some of its reports to the U.N. Security Council, and it took another five years to find Kayishema again and arrest him.