Violent trans prisoner Tiffany Scott has reportedly been granted permission to transfer to an all-women's Scottish prison after previous relocation requests were denied, Scottish reports said Saturday. 
Scott is known as one of the most violent inmates in the Scottish prison system and managed to stalk a 13-year-old girl while incarcerated under a former identity as Andrew Burns by sending her repeated letters, the Daily Record reported.
Scott has been involved in numerous violent attacks against female and male guards, fellow inmates and a female nurse.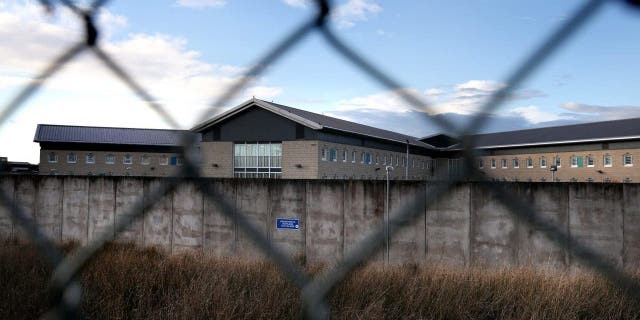 HMP Low Moss prison near Bishopbriggs, East Dunbartonshire, Jan. 9, 2020.  (Andrew Milligan/PA Images via Getty Images)
BRITISH PM MAY BLOCK SCOTTISH GENDER LAW, SAYS GOVERNMENT REVIEW 'COMPLETELY REASONABLE'
She has also reportedly inflicted self-harm by attempting to hang herself after shredding "tear-proof" clothing and ripping an IV out of her arm, the Daily Record said.
Scott is being held at the all-male Low Moss Prison outside Glasgow.
The Scottish government is facing pressure to intervene in the transfer after another case earlier this week caused uproar when Isla Bryson, a convicted rapist, was initially granted approval for an all-women's prison. That decision was later reversed. 
First Minister Nicola Sturgeon ordered the decision to be reversed Thursday after Bryson on Tuesday was found guilty of raping two women in 2016 and 2019 while she was still known as Adam Graham and before she changed genders, the BBC said. 
Bryson had apparently been transferred shortly before her sentencing Tuesday to an all-women's prison known as Cornton Vale, where she was kept in segregation before Sturgeon intervened, The Guardian reported.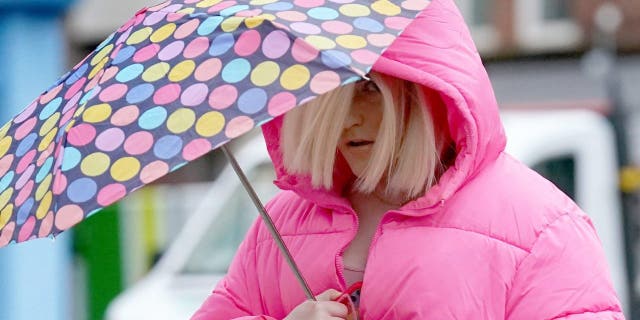 Isla Bryson, 31, formerly known as Adam Graham, from Clydebank, West Dunbartonshire, arrives at the High Court in Glasgow. (Andrew Milligan/PA Images via Getty Images)
Sturgeon is now facing similar pressure to intervene in Scott's case. 
The security issues surrounding incarnated prisoners and their gender identity has surfaced in the aftermath of a gender recognition bill that was passed in December by Scottish members of parliament. The bill was then blocked earlier this month by the U.K. government. 
SCOTLAND'S LEADER PLANS TO TAKE THE BRITISH GOVERNMENT TO COURT OVER SCOTTISH GENDER TRANSFORMATION LAW
Opponents to the bill that Sturgeon first introduced six years ago, which allows people to more easily change their gender identity, said it did not provide enough safeguards in instances where abusive males could potentially take advantage of the system.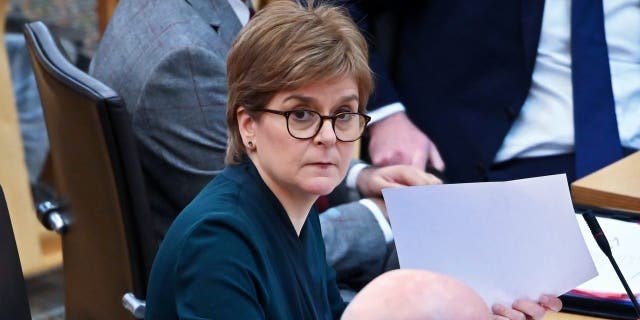 First Minister Nicola Sturgeon awaits the start of First Minister's Questions in the Scottish Parliament Jan. 26, 2023, in Edinburgh, Scotland.  (Ken Jack/Getty Images)
CLICK HERE TO GET THE FOX NEWS APP
Sturgeon responded to criticism this week over the bill, reportedly saying, "Firstly, in general, any prisoner who poses a risk of sexual offending is segregated from other prisoners, including during any period of risk assessment.
"Secondly, there is no automatic right for a trans woman convicted of a crime to serve their sentence in a female prison, even if they have a gender recognition certificate. Every case is subjected to rigorous individual risk assessment and, as part of that, the safety of other prisoners is paramount."
Caitlin McFall is a Reporter at Fox News Digital covering Politics, U.S. and World news.